Using the MyIllumina dashboard to view instrument yield, Reads PF, and Q30 data as trends over time
Illumina has enhanced your
MyIllumina customer dashboard
so you can now compare instrument run data over time. After a few simple connection steps, view data for each of your Illumina sequencing instruments. Opting into the Illumina Proactive instrument performance service from your instrument allows you to view performance data in your MyIllumina dashboard once you initiate a sequencing run.
Instrument Performance Comparisons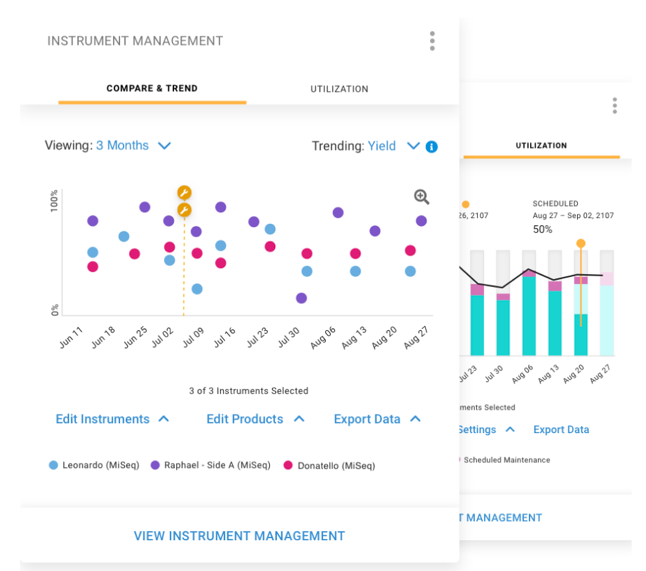 The instrument run metrics available to you include yield, Q30, and more. Data are plotted in graphical chart format to display trends over the specified time period. Hover over any data point to get details.
Frequently Asked Questions
How long does it take to connect my instrument?
It takes 60 seconds or less to opt in to Illumina Proactive using the instrument control software. From Settings, select "Send Instrument Performance Data to Illumina" prior to starting a run.
Where do I go to see instrument trends?
Log onto my.illumina.com and enter your customer number. Locate the Instrument Management widget on the dashboard. Select the tab for "Compare and Trend" and use the dropdown menus to edit instruments, products, and other settings.
You can export the data to meet reporting requirements or to optimize your lab's performance. Export metrics for all or select instruments to a .csv file.
There is no charge. Illumina provides Proactive instrument monitoring as a complimentary service.
Data is encrypted at rest and in transit. Illumina Proactive leverages only instrument performance information. No genomic data, Personal Health (PHI), or Personal Identifying Information (PII) is collected as part of this service.
For any feedback or questions regarding this article (Illumina Knowledge Article #2125), contact Illumina Technical Support
[email protected]
.